Welcome from the Chairs of NoF 2022
We are very pleased to welcome you to the 13th International Conference on Network of the Future (NoF 2022), which will be held in Ghent, Belgium, from October 5 to 7, 2022! We are looking forward to meeting you in person in Het Pand, the old Dominican monastery located in the heart of the city.
Since its creation in 2010, NoF has been a premier annual conference that covers advances in the area of Future Internet design, with emphasis on enabling technologies, architectures and services.
In recent years, networks have been witnessing a significant transformation that is resulting in new ways to address the deployment of applications and services in a digital society, today emphasized by the early deployment of 5G networks and services. Major trends like softwarization leveraged by Software-Defined Networking (SDN), Network Function Virtualization (NFV) and Cloud and Edge Computing, as well as the introduction of new radio techniques, are shaping the evolution in the Telecom and ICT industries. Additionally, initial research on 6G networks and technologies has already been ongoing. Besides technological advances, networking further benefits from the growing introduction of Artificial Intelligence and Machine Learning techniques that are expected to alleviate complexity while providing smart and reliable network operations.
Stay tuned for more details on our attractive program and see you soon in Ghent!
General Co-Chairs
Tim Wauters
(Ghent University, Belgium)
TPC Co-Chairs
Maurice Khabbaz
(American University of Beirut, Lebanon)

Federica Paganelli
(University of Pisa, Italy)
Steering Committee Chair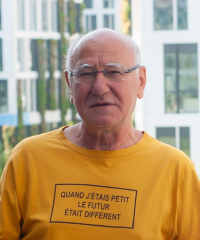 Prosper Chemouil
(CNAM, France)
---